FOOTBALL MANAGER 2016 TEAM GUIDE SHAMROCK ROVERS FC This is my first FM2016 team guide, and is my local club in Ireland and who I also sup...
FOOTBALL MANAGER 2016 TEAM GUIDE SHAMROCK ROVERS FC
This is my first FM2016 team guide, and is my local club in Ireland and who I also support in Ireland. I recommend starting at the start of the 2016 season.
BACKGROUND & HISTORY OF SHAMROCK ROVERS FC
Founded in 1901 Shamrock Rovers are currently the most successful team in Ireland. Shamrock Rovers. They have won 17 league titles and 24 FAI Cups in their history along with other trophies. Shamrock Rovers haven't won the league title since 2011 but they have won Domestic Cups such as the EA Sports Cup, the Setanta Sports Cup and the Leinster Senior cup in 2013. The fans have set high expectations for the 2016 season which has already begun.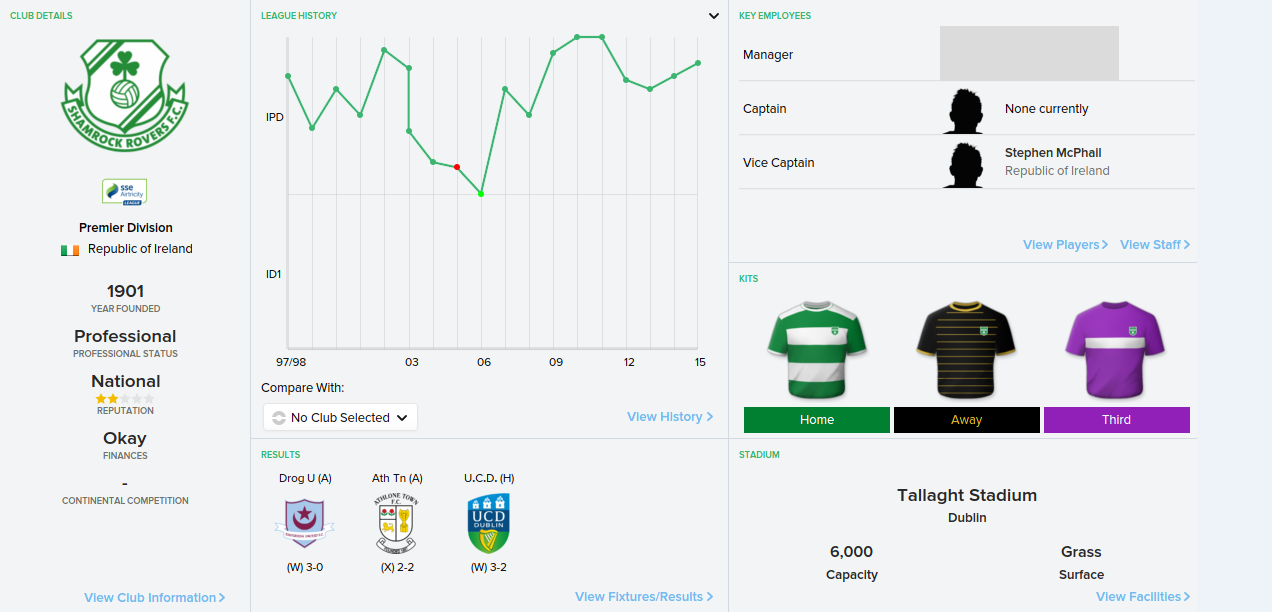 Facilities
In Football Manager 2016, Shamrock Rovers have Adequate Training and Youth Facilities. They also have Adequate junior coaching Average youth recruitment. The stadium condition is very good and pitch condition is also very good. Tallaght Stadium was built at the start of the 2009 season. It also has a capacity 6,000 all seater.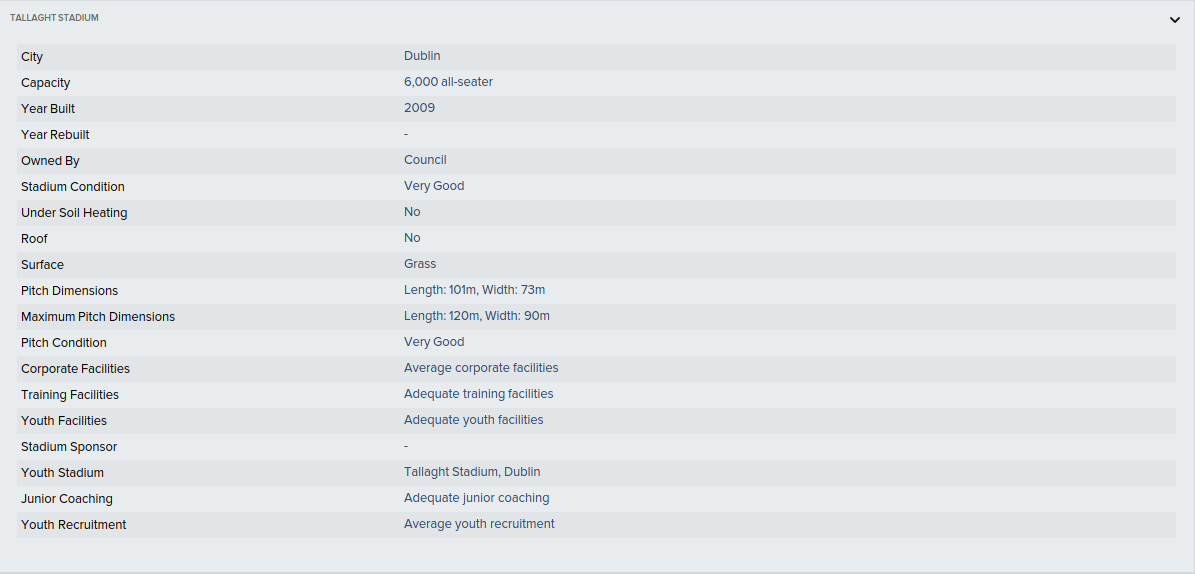 Shamrock Rovers Honours
:
National titlesLeague of Ireland
: 17
1922–23, 1924–25, 1926–27, 1931–32, 1937–38, 1938–39, 1953–54, 1956–57, 1958–59, 1963–64
1983–84, 1984–85, 1985–86, 1986–87, 1993–94, 2010, 2011
FAI Cup
: 24
1925, 1929, 1930, 1931, 1932, 1933, 1936, 1940, 1944, 1945, 1948, 1955, 1956, 1962, 1964, 1965, 1966,
1967, 1968, 1969, 1978, 1985, 1986, 1987
League of Ireland Shield
: 18
1924–25, 1926–27, 1931–32, 1932–33, 1934–35, 1937–38, 1941–42, 1949–50, 1951–52, 1954–55, 1955–56,
1956–57, 1957–58, 1962–63, 1963–64, 1964–65, 1965–66, 1967–68.
League of Ireland Cup
: 2
1976–77, 2013
League of Ireland First Division
: 1
2006
Setanta Sports Cup
: 2
2011, 2013
Regional titles
Leinster Senior Cup
: 18
1923, 1927, 1929, 1930, 1933, 1938, 1953, 1955, 1956, 1957, 1958, 1964, 1969, 1982, 1985, 1997, 2012, 2013
Top players in the Current Squad(2016)Barry Murphy
- 30 year old goalkeeper who has won Shamrock Rovers Player of the Year in 2013 & 2014. Very determined goalkeeper who has alot of experience in the Airtricity League. He started his career at Shamrock Rovers in 2004 then left in 2009 to move to local rivals Bohemians. He made 151 appearances from 2004-2009 winning the First Division title in 2006. He made a return to Shamrock Rovers in 2013 and has been phenomenal since returning.
Stephen McPhail
- 36 year old midfielder who signed for Shamrock Rovers in February 2014 from Sheffield Wednesday. McPhail is a player with alot of experience including international experience for the Republic of Ireland making 10 caps and scoring 1 goal against South Africa in June 2000.
Simon Madden
- 27 year old right back with plenty of experience in the Airtricity League, playing for top clubs suchs as Dundalk, Derry City and Shamrock Rovers. Madden has played most of his career in Ireland with a few shorts spells in England with clubs like Leeds United and Darlington. Madden is a fan favourite with Shamrock Rovers fans.
Brandon Miele
- 21 year old winger with lots of potential. He spent four years at Newcastle United before returning home at the end of the 2013/14 season. After a short spell at Bluebell United in the Leinster Senior League, he signed for Shamrock Rovers before Christmas 2014.
Promising YouthEvan Osam
- 18 year old left back currently on loan at Shelbourne in the Irish First Division He is the son of former St.Patrick's Athletic midfielder Paul Osam. Evan has made a few appearances for Shamrock Rovers first team.
Richie Purdy
- 18 year old midfielder who has an eye for a pass and doesn't like to give the ball away. Played for Shamrock Rovers B team during the 2014 season in the First Division but Shamrock Rovers no longer have a B team.
My Personal Recommended Tactical Setup
This is my personal opinion about the best formation for Shamrock Rovers. I have not added Team Instructions or player instructions, just the formations you could play and the roles that fit the players. I have picked two formations; a 4-5-1 and a 4-2-3-1 wide
4-2-3-1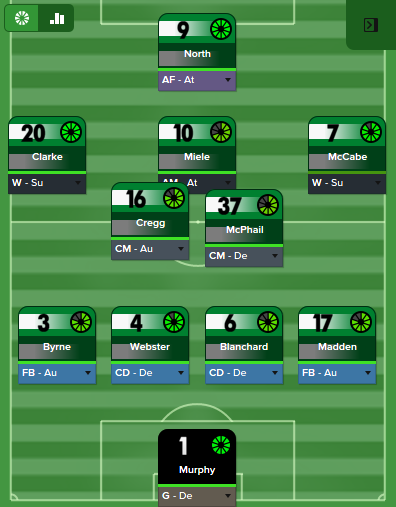 4-5-1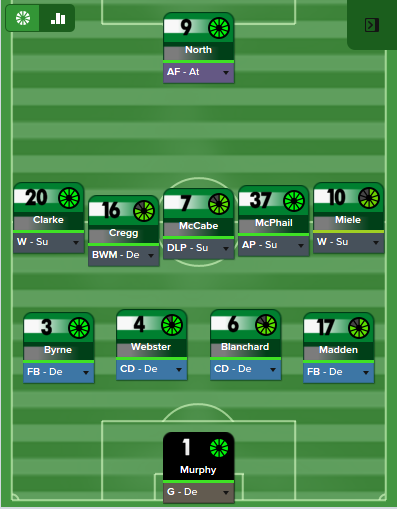 Starting Transfer budget / Wage budget
The starting transfer budget is €46k and wage budget is €10k p/w which is not alot but
It is a challenge. So if you want to choose a team with low transfer and wage budget choose Shamrock Rovers.
Board Philosophy
In Football Manager 2016, the Shamrock Rovers board expect you to finish top half of the Airtricity League. They don't expect you to win any of the domestic cups but any trophy is nice to win.
The board also expect you to bring youth players to the first team.

Weaknesses in the squad
GK, Barry Murphy is the best GK at the club but it would be wise to sign a good back up. Hyland is not good enough.
PositionsLB
- Luke Byrne is the main Left-Back at Shamrock Rovers but I recommend having Evan Osam as your back up LB.
RW
- Gary McCabe is the top Right Winger at the club and Gavin Brennan is good a back up for McCabe. I recommend selling James Doona, he is young but not good enough for Shamrock Rovers.
LW
- Brandon Miele and Trevor Clarke are the best left wingers at the club. Gavin Brennan can play both wings left and right but keep Miele and Clarke. Clarke is young but is good.
AM
- Killian Brennan is the best AM at the club but bring in youth. Richie Purdy is a player who rarely gives the ball away and has an eye for a pass. I wouldn't recommend buying anybody because Richie Purdy will be a star in the Airtricity League.
ST
- Back up striker. I recommmend signing Gary Twigg. Gary Twigg is a Shamrock Rovers legend. Scored goals for fun. He currently plays for Portadown in Northern Ireland so you will need to load up the Northern Irish league to buy him.
Media Prediction
In Football Manager 2016, the media predicts Shamrock Rovers to finish 2nd and with a squad like this I can see why. Players such as Brandon Miele, Danny North and Mickey Drennan.