As we head into the 3rd round of the Champions League, we take a closer look of the main games from this week.
With international friendlies finally over and the league, cup and European competitions back on the menu, we'll take a look at the most exciting clashes in the 3rd round of the most prestigious club competition in the world, the UEFA Champions League.
Our first game in focus will be the one where Cristiano Ronaldo will face his former employer, a team from Old Trafford, Manchester United.
Man United vs Juventus, Tuesday, 23/10/2018
The most exciting fixture of the 3rd round of the Champions League is between two clubs that know each other very well as they played on numerous occasion in the past, Man Utd and Juventus.
Both Paul Pogba and Cristiano Ronaldo will play against their former clubs.
Going into this game it is evident that Juventus are in a better form with nine wins from all competitions, and only one draw which they played this weekend in Seria A against Genoa.
Jose Mourinho's side, on the other hand, hasn't still found the right rhythm in this season and are playing below every expectation.
Rumors about the
Portuguese getting the sack from the United
position have gotten more louder after weekend's performance against Chelsea in the Premier League.
With all of this added pressure and with poor form that's following them from the beginning of the season, United stand a slim chance of getting a positive result in this fixture.
And if the result gets humiliating, it could be the end of the ride for Jose as well.
Another thing to possible place your bets is the option of over 2.5 goals on this game, with odds standing at 2.16 (6.5). Given David De Gea's miserable form and United's problems at the back four, this could turn to be goals fest. Ronaldo will without a doubt take any chances coming his way.
Barcelona vs Inter, Wednesday, 24/10/2018
Second heavy-weight match up awaits us next day when Barcelona without Messi will face awakening giant from Milan, Inter.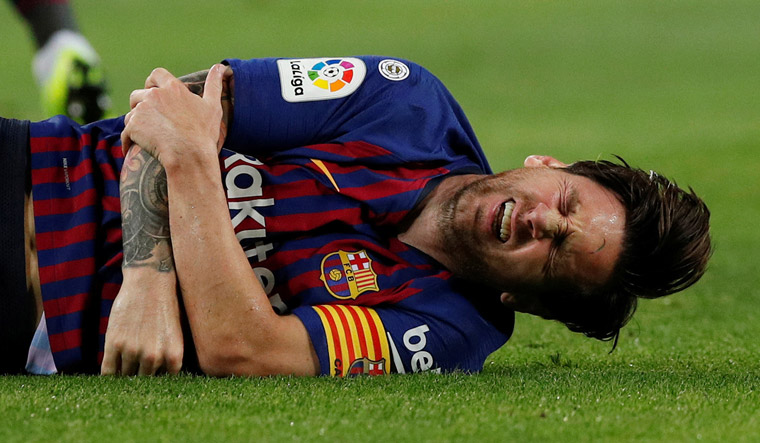 Lionel Messi suffered a broken arm injury that will prevent him playing in Wednesday's game.
Inter, will come to this game on a seven-win streak from all the competitions and with confidence at an all-time high after Mauro Icardi snatched an injury-time win against their fiercest rivals AC Milan in this weeks game in Serie A.
Ever since a shock loss to Parma back over a month ago, Luciano Spaletti's team have been nothing short of impressive, winning both of the opening games in the Champions League against the likes of Tottenham and PSV they now stand a fair chance of qualify to the knock-out round of the
Champions League
.
On the other hand, Barca also won both of their opening games in the group stage, but their current form and the fact that they will be without
Messi who broke his arm
in the La Liga game against Sevilla, in my opinion, give a slight advantage to the Italian side.
Barca will also gravely miss the absence of the World Cup winning defender the Umtiti.
Inter will also miss a vital midfield figure, with Belgian Radja Niangolang earning an injury during the game against AC Milan in weekend's Serie A fixture.
Nevertheless, with Inter in better form and Barca with missing Messi, I can see Inter getting something out of this game, if not even taking home all the spoils from this game.
A massive 6.4 (11/2) odds are set on Inter winning this game at Betfair. Chance you should test with a small to medium bet.